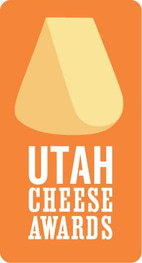 Call-for-entries
In August of 2023, The Utah Cheese Awards will hold its seventh cheese plate-oriented, specialty food competition; judging cheese, charcuterie, bread, honey, sauces, fruit, chocolate/candy. This contest is open to producers in the states of Utah, Idaho, Wyoming, Montana, Colorado, New Mexico, Arizona, and Nevada.
Contest Instructions
1) All entries must be made, grown, gathered, or processed within the states of Utah, Idaho, Wyoming, Colorado, New Mexico, Arizona, Nevada, or Montana.
2) First two entries are $25. each and include one transferable ticket to the yearly reception per entry. Additional entries are $35. each.
3) Submit sealed, labeled packages with the product name and category letter. Packages should total at minimum 8 oz. per entry except for: bread (submit one loaf); chocolate (submit two bars); dried fruit/candy (submit 4 servings); package design (submit 1 package, do not obscure label)
4) Include a check or money order for fees due. Make checks payable to: Utah Cheese Awards.
5) Winner in categories with 4 or more entrants will be labeled Double Gold. Winner in categories with 1, 2 or 3 entries will labeled Gold.
6) Winners will be notified by e-mail, and the awards announced to the public prior to November 15, 2023.
7) Medals delivered at ceremony. Shipment of medals is an additional $15., but free for those with bronze level support (or greater.)
Terms and Conditions
All entries become the property of the Utah Cheese Awards. Utah Cheese Awards reserves the right to re-assign categories. Failure to supply entry fees as noted will result in disqualification. Past entry fees due must be current or entry will be disqualified, and samples forfeited.
Deadline and Shipping Instructions
Begin shipping: August 14, 2023
Deadline for receipt: August 23, 2023, 7:00 PM
Ship to:
UTAH CHEESE AWARDS
334 E 100 S
LOGAN, UT 84321
Categories
I - CHEESE
A) Swiss and Alpine
B) Cheddar no adjuncts except oil/fat/honey
C) Blue
D) Semi-hard no adjuncts
E) Hard no adjuncts except oil/fat/honey
F) Adjuncts — Interior Any style, non-dairy ingredients included in the paste
G) Adjuncts — Exterior Any style, cheese rubbed with non-dairy ingredients
H) Curd flavored and unflavored
I) Mozzarella
J) Soft Cheese
K) Sheep or Goat Milk Cheese
L) Feta
M) Other
II - THE REST OF THE PLATE
N) Charcuterie
O) Breadstuffs bread or crackers
P) Honey or honeycomb
Q) Sauces/Spreads – Sweet
R) Sauces/Spreads – Savory
S) Sauces/Spreads – Hot
T) Dried Fruit
U) Nuts
V) Candy including chocolate, assembled in the region

III - IN THE WILD
W) Package Design
X) Charcuterie Board